Opening Reception: Saturday 7 december, 2019 from 6.30 pm
The artist will attend the Opening Reception
Location: VisionQuesT 4rosso – Piazza Invrea 4 r, 16123 Genova, Italy
+39 010 2464203 – +39 335  6195394
info@visionquest.it
Gallery Hrs.; Tuesday to Saturday from 3pm to 7 pm and by appointment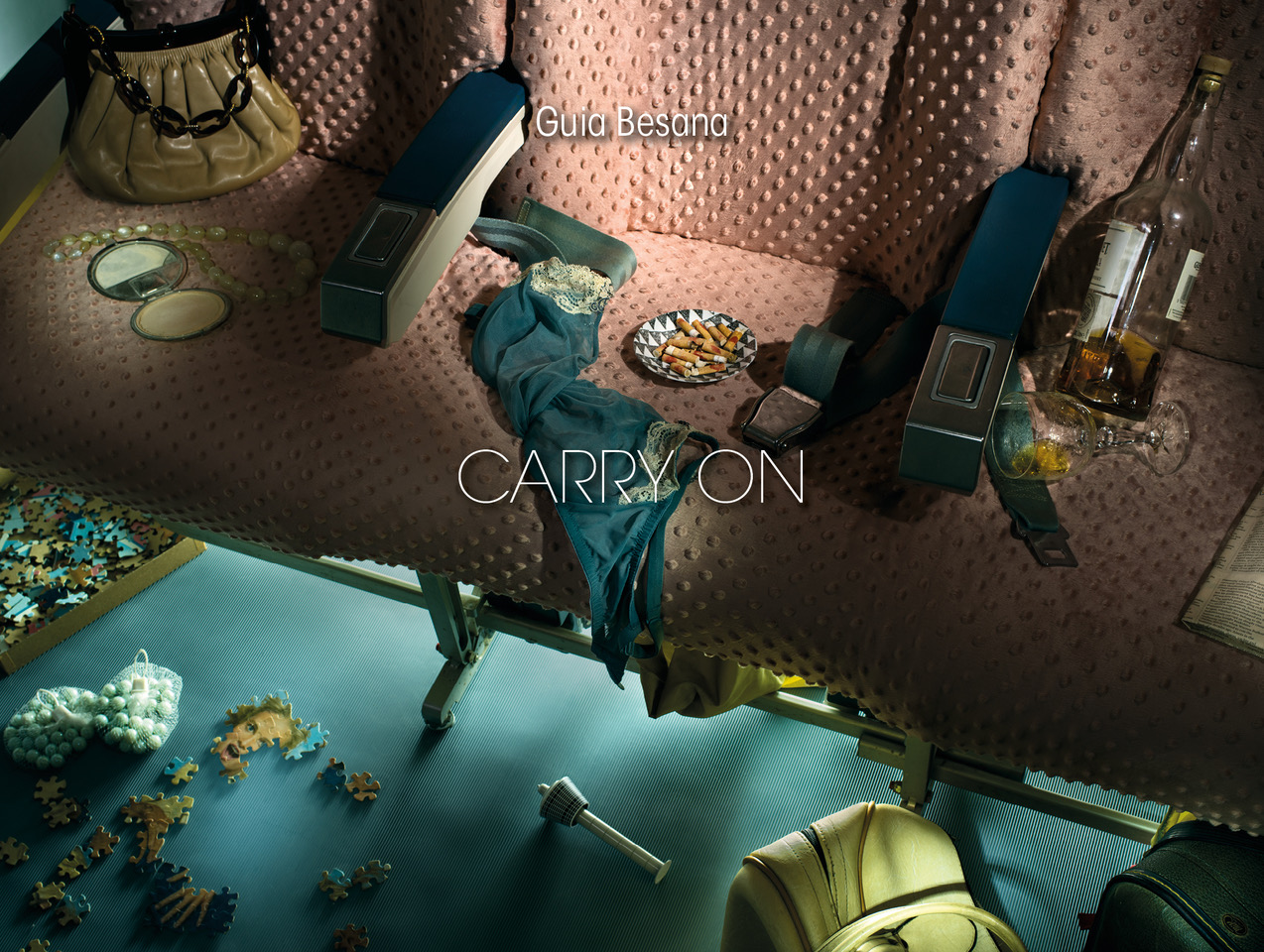 Photography is not simply a tool to give back a reality, nor to synthesize images in time. It is a want to add a chapter to a broader path of personal research, with which to deliver autobiographical experiences by translating them into universal themes.
By looking back at the super 8 movies of her childhood, and focusing on a scene where she is dragged by her mother across the runway, and then on to a plane that disappears into the sky, Guia Besana wants to represent the fear of flying, but in the deepest sense – the universal fear of not having control over time.
Her images freeze "frames" of a larger narrative almost like fragments of a film. In these images one can perceive two scenes in time: a dilated time in which the subjects/objects are staged in reflective or immobile situations; and a more precipitous time, in which the subjects/objects live in a state of anxiety or danger, leaving the viewer the freedom to interpret the story and connect to it. There is something solemn in the act of flying that leads thoughts into more personal and intimate universes. We carry our emotions, our lives and hand lagguage inside an airplane.We sit among strangers and let our perceptions wander in different directions,leaving the idea of "time" central.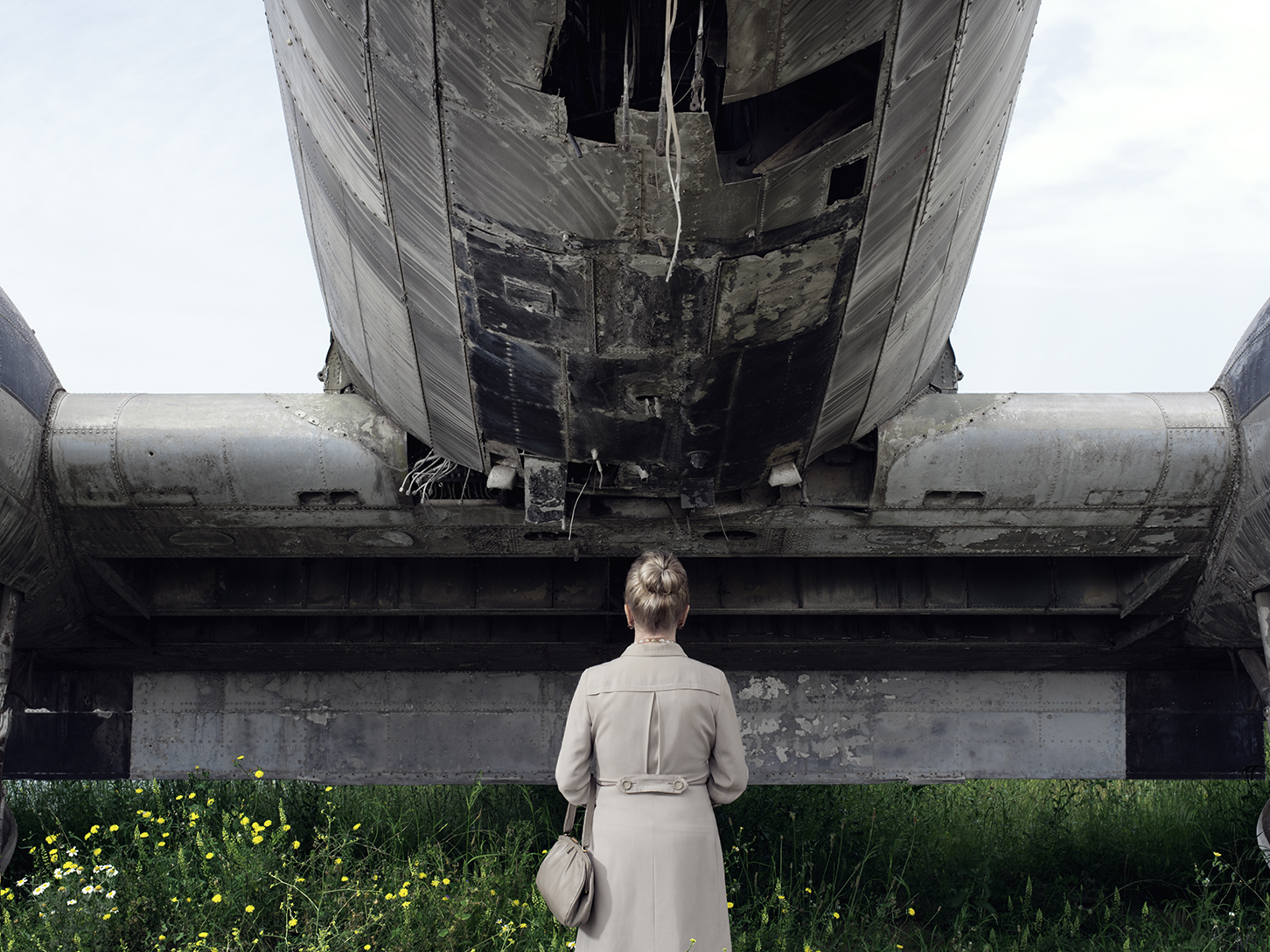 Viana Conti writes in the catalogue accompaning the exhibiton that will be presented during the Opening Reception:
With her solo exhibition Carry On, at VisionQuesT 4rosso contemporary photography, the photographer Guia Besana projects, as in the pieces of a mosaic,  the imaginary of a female in flight. Her world is that of staged photography – that world which urges the mind of the artist and that, from the beginning of the mise en place of its components, gradually transforms the illusion of an artificial set into reality:  a work that can potentially arouse sensory emotions in the viewer.
I ask her at our first meeting: in what way do you feel like a contemporary artist? In the quality and communicativeness of my fiction, she answers. In the narrative-thematic sequences, Guia Besana uses a female subject as the protagonist, against the background of a sort of re-reading of the Seventies Feminist Movement.
[…] The title of the exhibition Carry On oscillates between the literal sense of hand luggage and the metaphorical sense of an inner journey in which crowded sensations of fear – of a contingent nature due to the conditions of the flight – and projections in a visionary future where, together with unknown passengers, we can share the randomness of encounters and the feeling of an intense collective adventure.
[…] In the scenarios of her simulations, a performative component can be read, a hibernation action, an unnatural loss of the senses in a sleep similar to a swoon, sometimes even to death by poisoning. When she creates a fiction, a staged photograph, a digital set, it is her reality that is placed in front of the observer, while when she reports, it is the external reality that she records, a reality mediated, obviously, by the mode of her gaze and her camera. Her works are often presented with a veil of melancholy, referring to an isolation of the person, to a crowd of images and mental films comparable to the photographic work of the American Gregory Crewdson but, with her own self-ironical contribution. While in other series she inserts mirroring geometric parts in order to  reconstruct a sort of feminine automaton from fragments of the body, virtually sharing the creative imagination of the Dutch artist Vivian Sassen. I ask her again: what excites you about your work? The moment – she replies – when I finish the work, I realize, to my surprise, that what I could not rationally formulate is returned to me by the objects I assembled dictated by unconscious impulses.
 Guia Besana claims to live the photographic language as a writing in progress of her diary. I conclude by asking her: can you reconcile the concept with the aesthetic in your work?  – she replies – by balancing them in a point suspended in the undecidable.
Technical Information:
Pigment Print on fine art Hahnëmuhle Photo Rag paper, dibond and frame
cm 62×82 and cm 92×122, edizione di 7 + 2 a.p.
Light Box cm 95x125x10, edition of 3
Biography:
Guia Besana, (b.1972), Italian self-taught photographer currently living and working in Barcelona, Spain. After studies in media and communication in Turin, Italy, in 1994 she becomes a photographer and moves to Paris (France). With a particular attention to women's issues she travels in different countries and joins Anzenberger Agency in 2005 and the Gallery in 2013. In 2016 she starts working with Gallery 1968 in London. Her work is regularly published in international magazines and blogs: CNN photo blog, The New York Times, Huffington Post, Marie Claire, Vanity Fair, Le Monde, Courrier International, D di Repubblica, Esquire…
Her work has been recognized by several international awards: Los Angeles LADCA, MIFA, MarieClaire International Award, AI AP, PWP – Professional Women Photographers, Julia Margaret Cameron Award, finalist au prix Leica Oskar Barnack .
With her personal project Baby Blues she wins the Amilcare Ponchielli Grin 2012. Her images have been exhibited in New York (USA), Los Angeles (USA), Buenos Aires (Argentina), Italy, France, Spain and Malaysia. In 2017 she becomes Canon Ambassador and from May 2019 she is represented by VisionQuesT 4rosso in Italy.