EXTENDED TO SATURDAY FEBRUARY  17th, 2018
Opening reception: Saturday Dicember 2nd from 6.00 pm
Duration: Dicember 5th, 2017 – February 3rd, 2018
Location: VisionQuesT 4rosso –  Contemporary photography. Piazza Invrea 4 r, 16123 Genova, Italy
+39 010 2464203 – +39 335 6195394
Hrs: from Tuesday to Saturday 3 pm – 7 pm and by appointment
Web site: www.visionquest.it
Infromation and e-mail:   info@visionquest.it
"My approach is very instinctive: while I work I don't think, then I look and then I think. It easier for me to annihilate myself whithin my own world, which reveals itself through the camera."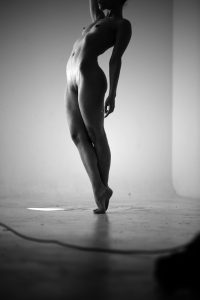 Nicolò Paoli (1980, Mirandola, Modena, lives and works in Genoa), an irreproachable black and white photographer of the nude, is predominantly an artist who tends to excess, who breaks conventional behavioral patterns, takes on an exhibition as the liberating act of both his imagination and his obsessions.
In this Solo show, meaningfully titled Materiali Nudi (Nude Materials), the forms of young women are the very thing that shape the vacuum around them. They are bodies of light and shadow that build their space to dance in. In these photographs the artist's experience into the area of drawing, painting and video installation is very apparent. Of course, his works are icons of a contemporary Western society, based on the woman's emancipation, on the aesthetic and female figures physical laws, belonging to the present. No mirrors, no high heels, no black stockings, no sets that resemble, in furnishings and details, scented Parisian boudoir atmospheres or portray erotic refinements after Helmut Newton, nor women as sexual instruments, but, as the title says, Nude Materials. A nudity always explicit and provocative, but harvested in an atemporal dimension, in unprepared, imperfect environments with dirt, electrical wires, floors to be cleaned, where the incursion of reality, of chance, of the unexpected cannot be eliminated.
The photographer's view on the full nude, even when the model poses and hides her face, becomes an exchange, an expressive choice between two conscious subjects, where the strong figure is not necessarily the male one. In these portraits of women, in balance between the Apollonian and Dionysian conditions, if it is the void that shapes them, it is then chaos that generates them, just like Nietzschian dancing stars.
Orchids can blossom on pubic areas, reminding us, as Mapplethorpe did, that flowers are the sexual organs of plants, and that sexuality and beauty can interact and exchange communicative and attractive potentials. They are forms derived from the flow of memory, from sculptures in history, from bodies that live the interminable length of the shutter click. They are the presence of lights and shadows that enter and exit silently, seductively, from the circle of appearance and disappearance. They are the memory of analog film whose process has faded into the immediate dimension of digital photography, they are coming out of the alchemy of development and of silver gelatin prints. They are photographs of young bodies sometimes motionless sometime dancing, they are the immediate capture of female forms without faces, immersed in an improvised space, subtracted from a possible set in which to place them. They are expressions of a look that, in an instant, represents a memory, the ancient path of memory. They are presence and absence at the same moment, exaltation and wrenching for the unbearable and unstoppable form of beauty.
Nicolò Paoli's works are sculptures of the folds, of contrasting surfaces: bodies, that, in their plasticity, spherical volumes, linear curves dynamics, chiaroscuro play, intensity of light-shade relationship, are like those by Brancusi, Moore and Arp. Perceptible in his works is the tendency to abstraction, the linearity of the contours that enclose volume, the effectiveness of the poses that exalt the movement. The fullness of a body is contemplated by the external observer as it becomes form. In the work of this artist, alongside the images, supporting materials also play a leading role, not only on an aesthetic-sensory level but also as a process. On metallic bases, the skin of photography transforms itself with time, it becomes a sensitive object, leaving oxidations, resin deposits, dripping, splashing of gels and paints to flourish.
In the hic and nunc, here and now of his shots, as if crossed by an electric shock, his female creatures are pervaded by a élan vital of Bergsonian ancestry.
Viana Conti