curated by Clelia Belgrado, Viana Conti and Christine Enrile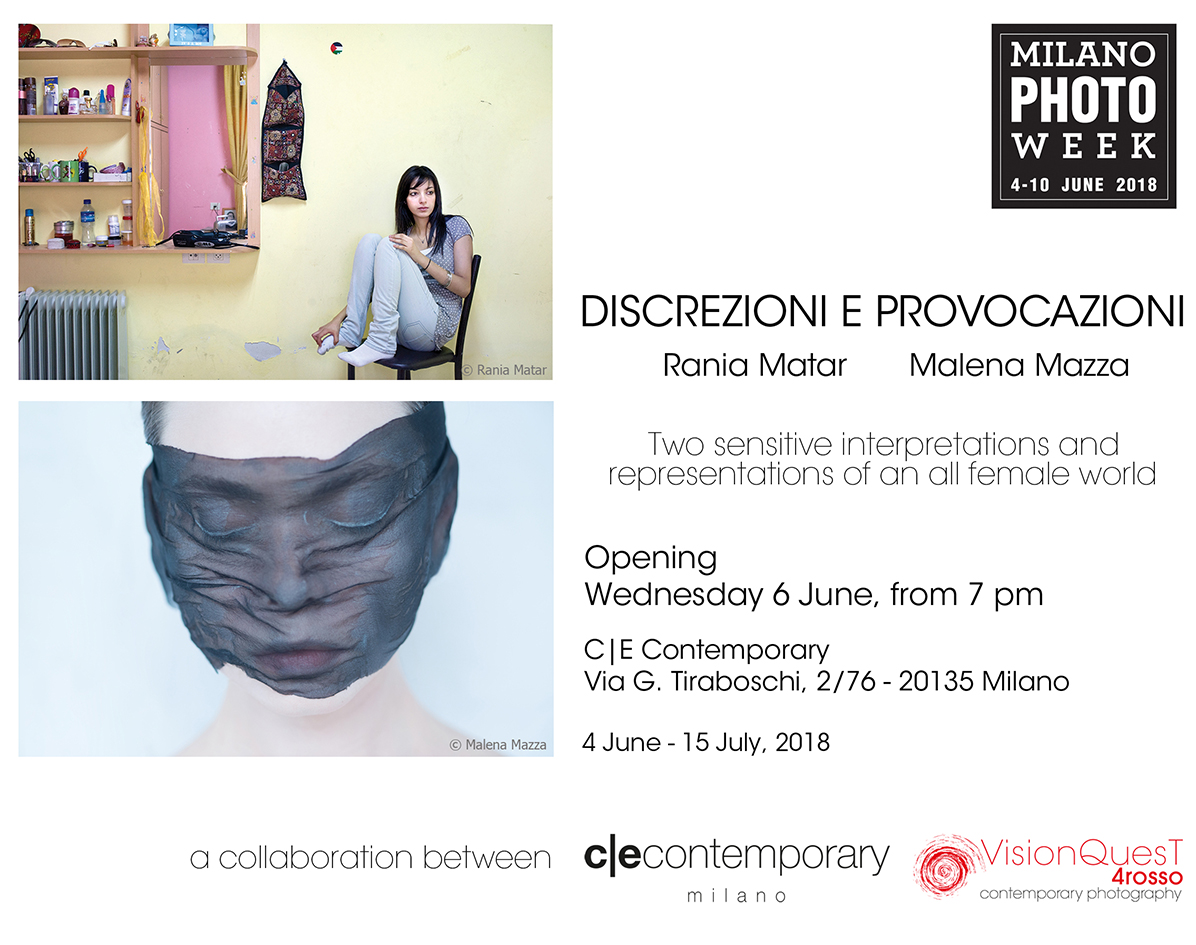 In the engaging relational event of Milano PhotoWeek, where photography, as an extraordinary language in progress of contemporary art, takes the floor giving  back to critics, collectors and the public, its deep, incisive, emerging and sensitive vision of the world,  two galleries C|E Contemporary, Milan, and VisionQuesT 4rosso, Genoa, present in collaboration a sensitive, representative interpretation of an all female world. 
C|E Contemporary presents a significant selection of photographs of pre-adolescent and adolescent women posing with the saturated colors of Rania Matar, born in Lebanon, US naturalized, living in Boston. It is the gaze of a woman, an artist, a mother, a former teenager filtered by the artists' lens that becomes a the mirror of the world, a psyche in development, an environmental and cultural model, in this case both the US and the Middle East, such as the   pre-adolescent and adolescent female. The bedroom, the posters on the wall, the casual or sophisticated, trendy clothes, the torn jeans on the knees, as the result of unspeakable imaginary adventures, the attitude in front of the camera, the hairstyle, the piercings, the tattoos, the isolation , the cellular-phone addiction, all symbols of rebellion to the system, to conventional behavior, to the institution of the family, all things that a young woman lives, either in rage or  in silence, in that complex process of growth and conquest of her  psychic and existential autonomy, inside that formative and normalizing device that is called society, moreover globalized. These are works that reflect, in turn, the capacity for observation and interpretation of a living context full of signs and dreams of a subject caught in the sensitive and evolving stage of the transition ritual from childhood to adulthood and in the progressive acquisition of awareness of becoming and being a woman today.
Vision QuesT 4rosso presents with the photographer Malena Mazza an icon of the feminine who is the subject and object of desire,  a body that does not cease to become fragmented in order to present itself in the most seductive phantasmagoria of fetishes, representing conditions and situations of the feminine that the more they arouse enchantment and turmoil the more they become aesthetically algid and unreachable … In the range of these modes of representation, now explicit now subliminal, we can read, hidden, but not for this less incisive and wide spread, violence, destabilization, de-subjectivization, the de-territorialization exercised, even today, on a woman, even if of different ethnic, cultural, confessional belonging, by a western mass society male model. 
Viana Conti (May, 2018)
Hrs: 3 pm – 8 pm