Vernissage Thursday 6 October 2022 6 pm – 11.30 pm
7 October – 23 December 2022
Wednesday to Saturday from 3.30 pm to 7 pm and by appointment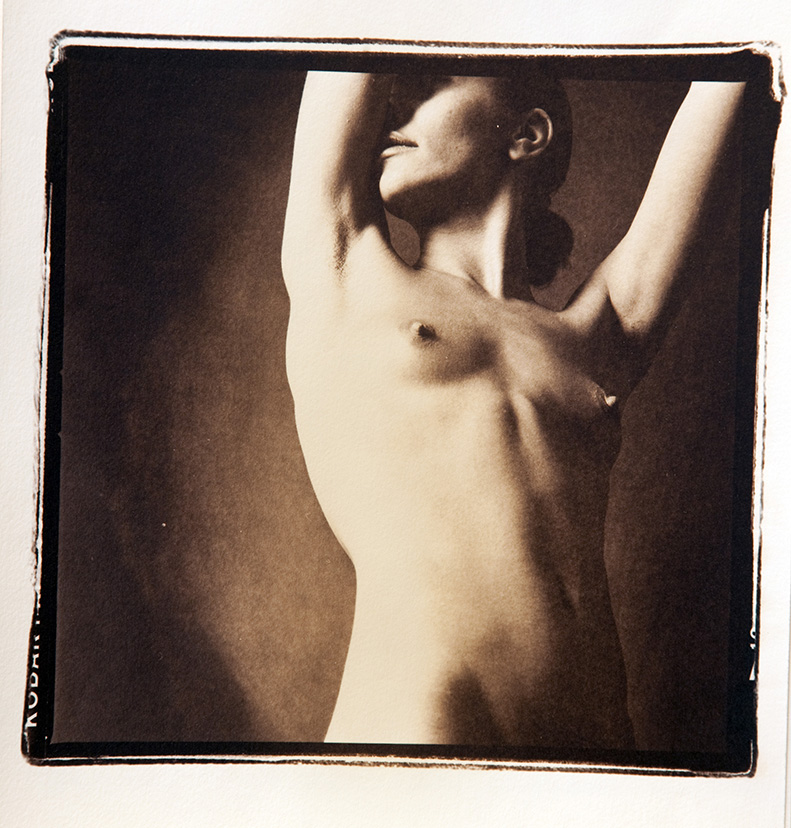 On the occasion of START – the White Night of Contemporry Art in Genoa, Thursday 6 October 2022 VisionQuesT 4rosso is pleasedto start the new season with the exhibition by Francesca Galliani INCROLLABILE (UNWEVAERING).
After more than twenty years, unique photographs emerge from Francesca Galliani's archives (photographs that Galliani printed in analogue and selenium and sepia toned herself) where the unchanged tension given by the combination of faces and bodies, – of only an apparent unambiguous genre – is expressed by the intertwining of seduction, tenderness, introspection, discouragement, defiance and triumph.
In the depiction of people. as in all her work, Galliani's portraits "exude a longing for emotions and an attempt to capture what is most fleeting: the process of becoming. In this perspective, the artist and her subjects evolve together. " *
Able to pass from analogue photography processed with manual interventions, to painting and collage, as a desire to add more, to intensify the emotion captured by the photo, she often brings the attention back to female issues not only of a social nature such as violence against women or the rights of transgenders, but to a vision of dense and powerful women, courageous and unconventional, strong in a delicious inner chaos and free from any compromise or social subordination.
Giuliana Scimé writes in the volume Francesca Galliani Real:
[…] An homage to beauty, to the ambiguity of a female being's impenetrable contradictions?
No, her inqury about the body is through "knowledge": the willingness to discover, through the surface's forms, an intangible and ignored universe.
Beautiful, extremely beautiful, provocative and transgressive, rebellious and fragile, her women are symbolic affirmations of "being oneself" with all the truthfulness that life grants us.
And only a woman could have succeeded in breaking through this subtle and even impenetrable veil that shields the indiscreet glance. […]
[…] Tired and nauseated by idiotic, useless, pseudo-erotic celebrations of silicone-enhanced and irrepressible fantasies, this is the female universe, demure in revealing itself through its own image, yet also so intensely authentic as to provide a tremor of incredulity.
Francesca Galliani's work is a grimace towards stereotypes and a sublime gift, finally, to the female truth that hides beneath iridescent shades of sensuality: androgynous bodies with exhaustive drives, soft shapes of irresistible desire, alluring uncertainties of sexuality, bodies abandoned in dreams, violence an hypocritical certainties.
Real Women, not dolls that pose in front of the lens, docile slaves of a mistaken duty. […]
*Peggy Fogelman –  Norma Jean Calderwood Director of the Isabella Stewart Gardner Museum in Boston, Massachusetts.
** Giuliana Scimé FRANCESCA GALLIANI Real – Ed Charta 2004
Technical informtion:
Unique fine art analogue prints – hand toned with selenium and sepia. Various sizes.